Ribbon-cutting ceremony at the new ImagineBox at Nof Tzurim School in Kokhav Ya'ir–Tzur Yigal Local Council

May 2023

Dear Friend of Athena,

As the school year comes to a close, we are in a peak season of installing and launching ImagineBox immersive classrooms in several schools around the country. This month we installed two new ImagineBox classrooms at Michlalah Jerusalem College and at Nof Tzurim School in Kokhav Ya'ir–Tzur Yigal Local Council.

We place great importance in opening ImagineBox immersive classrooms in teacher training colleges like Michlalah Jerusalem College. Future teachers will undergo pedagogical and practical training in the innovative ImagineBox classroom. Using this cutting-edge technology during their studies will provide today's students with a meaningful advantage for their future as teachers in Israel's education system.

The ImagineBox classroom at Nof Tzurim School is the second one implemented in Kokhav Ya'ir–Tzur Yigal Local Council. The first ImagineBox classroom is operating at the Keshet School, where students are already enjoying dynamic interactive learning that helps build 21st century life skills. For us at Athena Fund this is the ultimate sign of the program's success.

At the same time, we are working with leading teachers and our ImagineBox technology provider to develop and make available immersive lesson plans in Hebrew and Arabic. We are also training "teachers of teachers" for the schools where ImagineBox has already been installed, in order to create relevant lessons for their students. In addition, we are moving forward with external partnerships to enrich content and immersive experiences.

We believe that the success of ImagineBox in Israel will not only bring a change in our country's education system but also lead to a breakthrough worldwide. ImagineBox can elevate education to the appropriate level that reflects today's technological advancements.

I invite you to take part in the revolutionary ImagineBox project and contribute in various ways to establish more ImagineBox classrooms. I invite you to: connect us with schools or municipalities that might be interested in establishing ImagineBox; introduce us to potential donors (individuals, family funds, or companies) who might want to invest in the project; and/or make a personal donation to establish ImagineBox in a school that's close to your heart.

Thank you!

Uri Ben-Ari
Founder & President
Athena Fund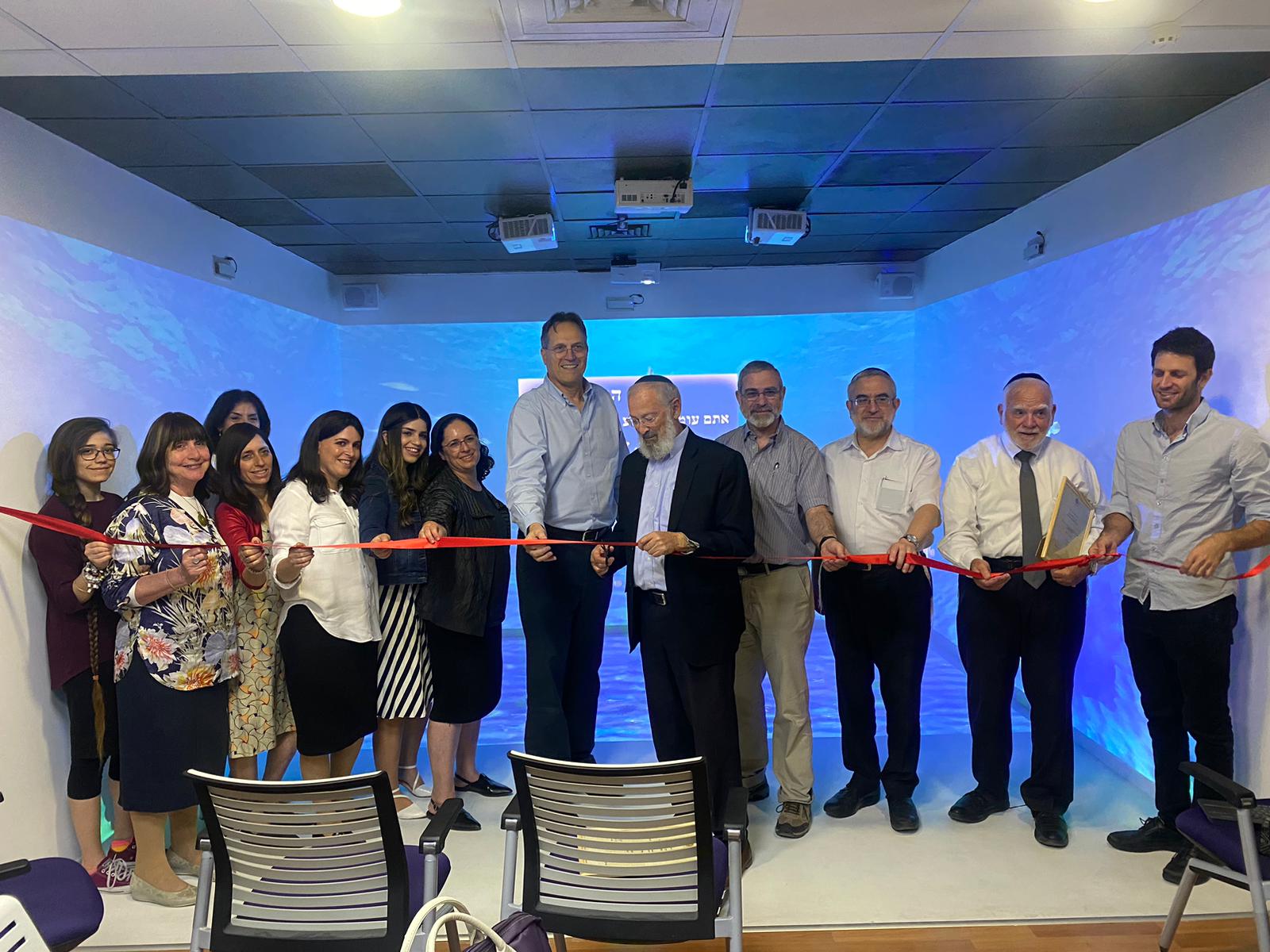 ImagineBox launch at Michlalah Jerusalem College this month

Sixteen Outstanding Educators to Receive Certificates of Appreciation at President's Residence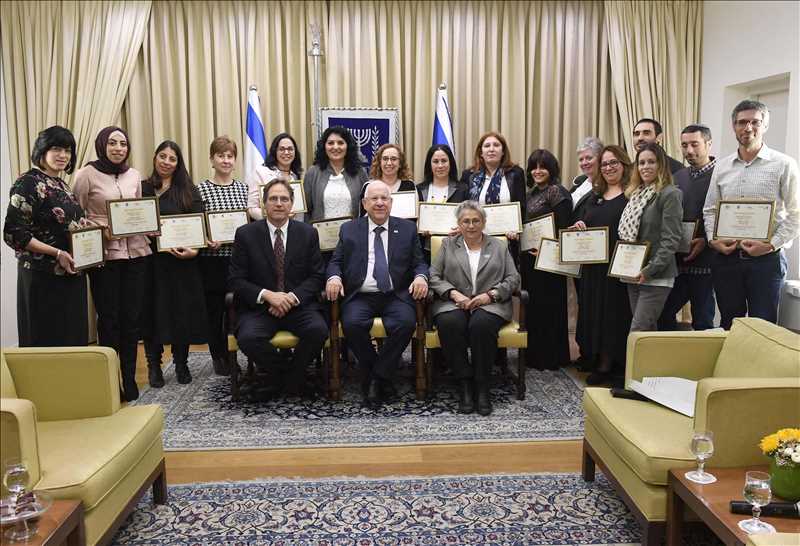 Outstanding teaching staff at a meeting with President Rivlin and his wife, 2017

On Wednesday, June 21, 2023, a special ceremony will take place at the President's Residence in Jerusalem.

Sixteen outstanding teachers in special education (two from each district) will receive a certificate of excellence and meet with the President and his wife at the President's Residence. These teachers were selected by a joint professional committee of the Ministry of Education, Athena Fund, and leading academics in the field of special education.

Led by Athena Fund, this initiative is part of Uri Ben-Ari's vision to hold an annual event at the presidential level in which the state will recognize 120 outstanding teachers. Such an event would be similar to the annual event that hosts 120 outstanding soldiers at the President's Residence in Jerusalem every Independence Day.

This year, teaching staff were selected from a wide variety of fields in special education – kindergarten directors, special education teachers, a school principal, a physical therapist, an art teacher, and more.

We would like to thank each one of these educators, and wish them great success with the closing of the school year and in the coming years.

We are also grateful to the committee members – Nava Niv from the Ministry of Education, Prof. Adina Shamir and Prof. Sigal Eden from Bar-Ilan University, Dr. Betty Schreiber from Kibbutzim College, and Daphna Tamir from Athena Fund.


Director General of Ministry of Education Visits ImagineBox
On May 21, 2023, the Director General of the Ministry of Education, Asaf Zalel, visited our ImagineBox showroom in Shefayim together with his team of VPs and senior managers: Mohana Fares, Eyal Ram, Inna Zaltsman, Michal Tzadoki, Arye Mor, Shimrit Yelovich, Dr. Tali Yaniv, Avital Ben Shlomo, Eilat Melekman, Gavriel Ben Chayim, Chagai Gross, Gila Carmel, Dudi Cohen, Einat Rom, Merav Yarkoni, Daniel Bar and others. 

During the visit, Uri Ben-Ari presented ImagineBox and the visitors experienced various immersive learning environments.


The EDUTECH 2023 conference that was scheduled for this month has been postponed until Wednesday, June 28, 2023. The conference will take place at the Lago event complex in Rishon LeZion. Athena Fund organizes this annual event in partnership with the People & Computers media company.

This year the conference will focus on Disruption of Educational Technologies and their role in the future education system. In addition to arranging fascinating lectures, we have put together a panel of Education Department directors and ImagineBox leaders from schools and colleges around Israel. These panel members will share firsthand accounts about the contribution of the immersive classroom to innovative and interactive learning.

The conference is free of charge but requires advance registration. We invite you to register and ensure your place here. 

We hope to see you there.


8th Graders on a Special Mission at ImagineBox
This month we visited the ImagineBox classroom at Brenner Middle School in Petah Tikva to present a special immersive lesson plan with tasks created by Checkpoint, the leading global provider of cyber security solutions.

The students said that this form of learning makes the learning process very effective, and that it is much more fun to learn part of the time in interactive ways empowered by ImagineBox.

Below is a short video showing some of the activities in which the students participated.